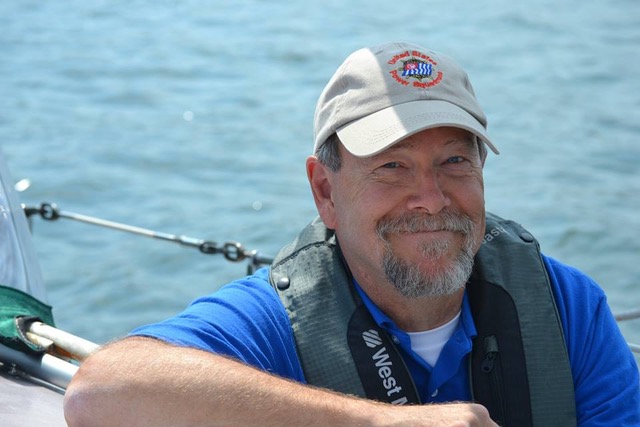 Email: This email address is being protected from spambots. You need JavaScript enabled to view it.
Mark got into his life-long dream of sailing in 2011 when he purchased and refurbished a 1970 CAL-25. He and his wife Anne joined the Finger Lakes Chapter, taking the Seamanship course followed directly by the Sail course. They were hooked, got deeply involved in Club activities and Watkins Glen has been their home port ever since. He initially served on the Executive Committee and as Assistant Public Relations Officer, then as Executive Officer which led to a four-year stint as Commander as well as serving as District 6 Secretary for two years. Mark and Anne eventually sold the CAL, owned a Hunter 28.5 and an O'Day 272LE and a 1963 Alberg 35.
Childhood summers were spent growing up at the family cottage on Starkey Point where he learned to fish, swim, canoe, row, ski, and operate small watercraft. He was a radioman in the U.S. Navy from 1969-1973 (Vietnam era), specializing in teletype communications for ComCruDesLant staff in Newport, RI, followed by an assignment to the light guided missile cruiser U.S.S. Little Rock CLG-4 (now part of the naval museum at the Buffalo Waterfront Park). Mark is also a ham radio operator, call sign N2RZZ, holding a General class ticket.
Over the last few years Mark completed Piloting, Advanced Piloting, Marine Electronics, Marine Communications, Partner-In-Command, the home-grown seminar Fiberglass Boat Maintenance and Restoration, completed the USPS online "America's Boating Course", has been a Junior Sailing Coach, became a Vessel Safety Examiner in 2016 and a Certified Instructor in 2019. He also holds "dual citizenship" as a member of the U.S. Coast Guard Auxiliary, Flotilla 2-2, District 9ER, in Ithaca, NY where he is Crew Qualified and served as Flotilla Staff Officer of Publications.